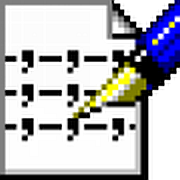 Edit data files with a drop in List Editor.
Description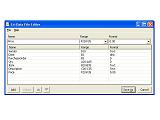 Developers often write great software and then get bogged down for hours having to describe how to configure it, and / or having to write a screen to allow the user to do this. Wouldn't it be great if there was a screen that you could just pop in and use? Wouldn't it be great if the help pages for it were already written? Well, EziEditDat may be just what you are looking for.
Are you a user with a simple list that you want to maintain? Are you looking for a real simple, no frills, easy to use, list manager? Well, EziEditDat may be just what you are looking for too.
Key Points
A small program.
Easy to use.
Works with most lists.
Uses standard .dat and .csv file formats.
And for developers:
A "drop-in" configuration tool that you can use.
Allow users to edit configuration lists without coding.
Get to market sooner.
Configurable title bar.
With its own drop-in help.
Integrates with your application.
Integrates with your help pages.
Works with single column lists.
Works with many-columned lists.
Free. Free to use. Free to distribute. Free of royalties.
You can see some of the awards for EziEditDat.
Download
More Information
Read the frequently asked questions: FAQs.
Read the documentation: Documentation.