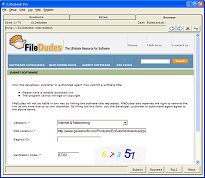 * Upload your software to 400 download sites.
* Add more at any time.
* Change when software sites change.
* Save and Resume uploads.
* Enter captcha values.
There are a lot of software submission tools out there. They range from free (with limited sites) to pay lots per month with lots of sites.
Some of the free ones can provide you with a good start but others aren't worth the time downloading. One I saw was a 53MB download and submitted for free to five sites! What's worse, the submission failed for two of those. If you're like me, you have lots of other things to spend your time on.
The expensive ones are probably better but I was on a budget and didn't want to buy expensive ones. I needed something that was good, had the potential to be great and yet was at a price I could pay.
EziSubmit is the tool I wish I'd found.
– the developer
Submit Software
EziSubmit allows you to submit your software to the download sites. This has two benefits: people can find your software and buy it; AND you get links from those sites to your site so you climb the Google search engine results.
If you are higher in the search engine results more people are likely to visit your site. More visitors means more sales too.
Already Supports Many Sites
EziSubmit comes with information about 400 software / shareware / freeware listing sites. It knows the sites. It knows how to submit to those sites.
Add More Sites
Unlike many program uploading tools, EziSubmit is updatable by the user – YOU. If it doesn't already include your favorite sites, or if you hear of a new site that everyone is downloading from, you can add that site. You don't need to wait for an update. You don't need to pay for an update.
Adapt – Change When Software Sites Change
There are tools out there that are SO out-of-date. A lot can happen on the net in six months. What was once a great tool can rapidly become useless. EziSubmit is reconfigurable after purchase. If a website changes EziSubmit can change too. Did they change the submit page? Did they change the form? Do they require more information? EziSubmit can be updated in minutes to match. All you need is the manual and a text editor like Notepad.
Save and Resume Uploads
If you are going to upload your shareware or freeware to a lot of sites it is going to take some time, no matter how automated.
With many tools "restarting" means resubmitting to all the sites you just submitted to. One site I saw got so fed up with "spam submissions" that they refuse to list software submitted by one of the tools. They just delete anything you submit with that tool.
The Search Engine Optimization (SEO) Gurus reckon Google behaves similarly. They warn that getting lots of links in a short period of time can get you black-listed and your page ranking will go (way) down rather than up. If you HAVE TO submit your software to all sites in one go you have no choice.
EziSubmit always records where you got to. EziSubmit always allows you to resume from where you left off. You can add your software to listing sites gradually.
Enter Captcha Values
Have you noticed how more sites are blocking automated tools? They test for the presence of a human being during the submission process by requiring a value from a picture to be entered during the process. If the computer can't read the picture then the submission doesn't happen. These pictures are known as "Captcha" values.
Many of the older tools fail these tests so, whilst they offer (say) 400 sites, they only successfully submit to 200. Which 200? Well, hopefully there is a log. Otherwise you'll need to find out by trial and error.
EziSubmit allows you to enter captcha values whenever they are required. It logs success or failure as it happens and even allows you to correct errors as they happen (was that an "o" or a "0"?). It even works with "What is the sixth word in …?" and "what is two plus four?" To my knowledge, none of the fully automated tools cope with those.
Submit Your PAD File
A PAD file is an XML format promoted by the Association of Shareware Professionals. The concept is to include all of the information about your program (name, version, size, price, etc) in a single file so that download sites can extract the information they need without you having to type it in at every site. PAD files can be easily created with the free PADGen program from the association.
After you have created your PAD file you upload it to your website and then begin the process of telling all the software listing sites about it.
EziSubmit will make that process a whole lot easier.
Uses
EziSubmit has received many awards and is an ideal software solution if you are searching for any of the following:
Automated PAD submitter

Automatic PAD submitter

Manual PAD submitter

PAD file bulk submit

PAD file submitter

PAD file submission software

PAD submitter software

PAD submission application

PAD submission software

PAD url file

Sell Software

Submit PAD files

Submit freeware

Submit shareware

Submit software
Limitations
The following operating systems are supported: Windows 2000, Windows XP, Windows Server 2003, and Windows Vista.
The Trial version is limited to 50 sites for 30 days.
The software is only available as a download for this price. Please contact us if you would like to purchase a CD.
Download and Buy EziSubmit
Step 1 – Download
Download and install a FREE trial version of EziSubmit Pro
DOWNLOAD
Step 2 – Buy
Purchase EziSubmit Pro for $29.95 USD to obtain a registration key.
GET IT NOW
More Information
Read the frequently asked questions: FAQs.