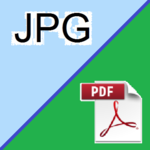 Do you need your scanned pages to be in PDF format? If so, this is for you.
A lot of organisations have standardised on PDF files. They are very portable and they were mostly uneditable for ages. Those are both useful qualities. They can still be protected and / or signed. There are lots of reasons that it is a good file format. Unfortunately some very good document scanning software, like CmdTwain, didn't scan directly to PDF files. If you needed a PDF file you had to manually assemble all of the image files into a single PDF.
Wouldn't it be nice if you could get a simple program to do the work for you? No more opening a file, manually adding it to a PDF, repeating all of the mouse movements / clicks / button presses / selects to add the next page, and the next; and then again to save the PDF file. Jpg2pdf is that program. Just give it a list of images (in JPEG ie ".jpg" format) and a PDF filename and it will do the lot for you. Or, give it a directory containing image files and a PDF filename and it will sort the images into an order and save them in the PDF file. Easy.
Features
Works with JPEG files. These can be black and white, grayscale or color. They can be any size. They can be any resolution. Each scanned page or image will be sized to suit the PDF file.

Works with standard sizes. You can create PDF files that are A4, US LETTER or LEGAL sizes. All of the pages will be the same size and they'll all be the same orientation.

Works with scans you did before now. If you have scans you did earlier, you can convert them too. You don't have to print them out and rescan them, or find the original documents and scan those all over again.
Requirements
Requires Windows (2000/XP/Vista/7/8/10)
Download
Download and install Jpg2pdf for free.
DOWNLOAD IT NOW
More Information
Read the frequently asked questions: FAQ.
Read the documentation: Documentation