What's The Easiest Way To Convert JPGs To A PDF File?
Just run Jpg2pdfw. It pops up a window and lets you add JPG files. When you have your file or files, click "Save As". It's that easy.
It looks like: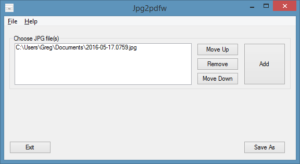 What's The Not As Easy Way To Convert JPGs To A PDF File?
(This was the answer before I added the "point and click" Windows GUI program.)
If you picked the "easy" option during install and the JPGs are in a single directory:
use Windows Explorer to move to that directory.
click in the address bar
type  jpg2pdf -c a4 *.jpg a4.pdf  and press the enter key
You'll get a PDF in the same directory called "a4.pdf". Cut, copy or drag it wherever you want it.
How Else Can I Use It?
See the help page.
Can I Get More Help?
Of course. Contact us
Is It Really Free?
Yes. You don't have to buy it. You don't have to enter an unlock code. It doesn't stop working after 30 days. It doesn't pop up advertisements. And it doesn't scribble anything over your documents.
Can I Give It Away?
Yes.
Can I Include It With A Saleable Product
Yes.
Can I Sell It?
If you like. I won't say "no" if you donate some of the proceeds to me for more software development.
Will It Work For Me?
Probably. As with all software, you need to determine its suitability for your purpose. I can't guarantee it will do exactly what you want and/or that it will work for everyone. I wish I could but life's not like that. If you have trouble with the program you can always email me. Maybe I can get you going. Maybe I can change something to add a feature.
Does It Run On Windows 8 Or 10?
Probably. I'm running it on Windows 8.1 at present.