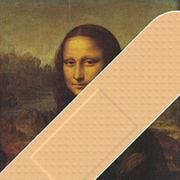 Do your scans come out upside down?
I know. Most times you CAN just put the page in the other way around. But sometimes, you can't.
If you're stuck with a strange scanner and it scans sideways or upside down or inverted in some way, this one is for you. Simply add this command after you scan the document and it'll rotate or flip the scan around for you. Automatically. Every time.
It works like this:
C:\> FixPic -r 180 -fh scan.jpg
That command rotates scan.jpg 180 degrees and then flips it horizontally too.
You can specify any amount of rotation (though 90, -90, 180 will be the most common values). You can flip it horizontally or (-fv) flip it vertically, or both.
If you are a programmer and need something to insert into a program so you can turn pictures around or make them into mirror images instead, this one's for you.
---
What Does It Cost?
It's $5.00 USD. That should be affordable for most people and you can use it wherever you like. For yourself. For customers. With programs you ship. Wherever you like. As much as you like.
Where Do I Get It?
Right here:
GET IT NOW
Get It For Free
I know you don't want to buy it if it doesn't do what you need. How can you be sure?
There are some things that annoy me about "trialware" but they really are the best way to see if something works for you. So, please download a copy of the real thing and try it for free.
If it doesn't suit, you've lost a few minutes but then you'll know.
If it is what you're looking for, it is pretty easy to buy a copy that's yours forever.
The free download is the full product with all features intact and no limitations at all. The free license key simply lets you use it for up to 30 days to see if it is what you want.
More Information
Read the frequently asked questions: FAQs.
Read the documentation: Documentation.
Old Versions
You can find older versions of the program on the FixPic Download page.